J. Knutson Bio
Jay is a current member of the folk/rock band "Early Spirit"
For 20 years Jay was a director with The North Shore Celtic Ensemble.
He was a founding member of the seminal folk band "Spirit of the West" and went on to work with such Canadian luminaries as Connie Kaldor, Hart Rouge, and Daniel Lavoie.
Jay has released 8 full-length albums of his own, as well as 3 project singles and a full length album with French Canadian singer Josee Lajoie. There were 4 albums released with Spirit Of The West, and 4 albums released as part of the Montreal based Hart Rouge, as well as 2 albums recorded with Vancouver's "Swamp Devils".
He has been involved in the recording of over 50 albums, has won West Coast Music awards, been part of 5 Juno award winning projects and was recently inducted into the British Columbia Entertainment Hall of Fame along with the other members of Spirit Of The West.
Knutson was an instructor at Simon Fraser University, teaching a music/physics course entitled Logarithm and Blues with Dr. Mike Hayden. He has also maintained a profile in the broadcast community. Since graduating from B.C.I.T. in Broadcast Journalism in 1981, he has worked as a producer for C.B.C. projects in Montreal, Ottawa and Vancouver, and for 5 A.D. Radio in South Australia
Jay has also scored music for the National Film Board, Danish National T.V. and the C.B.C.
The Swamp Devils
The world is our swamp!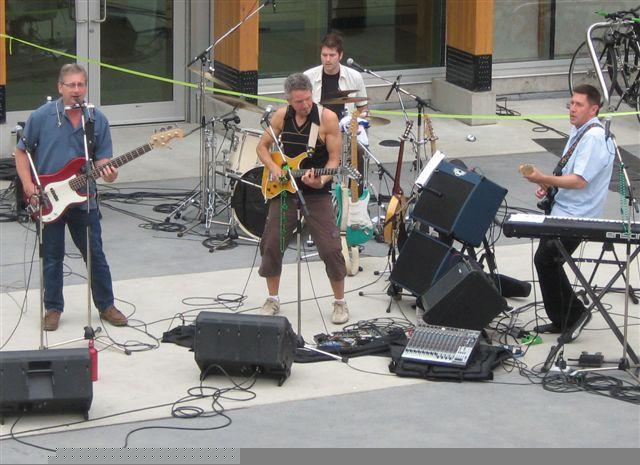 The Draycott Swamp Devils play a brand of original "west coast swamp music",
It goes back to their roots in the Draycott Swamp, which lies not far from their home in Lynn Valley, Canada.
Many a frog was caught in the swamp, many a gumboot was filled with the primordial ooze that grew the tadpoles and spawned the "Devils"
Peter Lepine (bass, harmonica and vocals) still lives near the swamp,
At night, under a full summer moon, you can hear the toads croakin' to Neil Homulos' backbeat. (drums and vocals),
while Peter Orhnberger's porch organ (keys, guitar and vocals) shimmers like the moonlight itself.
J. Knutson (guitar, bouzouki, vocals) watches over the swamp and keeps tab on the critters movin' in and out.
Occasionally when the stars line up just right in the heavens, the boys are joined by "The Devil Horns" and/or "The Angel Strings".
Legend has it, together these "Swamp Devils" conjure up a tasty foot tappin' celtic rockin'-gumbo .
Fall under the spell of the "valley voodoo".